Midwest Sports Car Club
>
Forum
>
Public Events
Coffee and Cars Fort Wayne October 10th
#1
Member



Joined: Oct 18, 2007
Posts: 27

Calling all cars!!!! There will be a special Coffee and Cars on October 10th at DeBrand's Chocolates at 10105 Auburn Park Drive in Fort Wayne. DeBrand's has a great lot for Coffee and Cars.
Directions are located here:
http://maps.google.com/maps?ie=UTF8&q=debrand+chocol...
Come one, Come all. (Especially you Indy guys who aren't attending Ferraris and Friends!!!)
JIM
#2
I'm gonna try to make it... I wish I could be there for the whole weekend!
#3
Member



Joined: Feb 23, 2008
Posts: 87

wow a cars & coffee event in Ft. Wayne, never thought that would happen. I'd go, but I'll be out of state that weekend. Hopefully another will be set up again.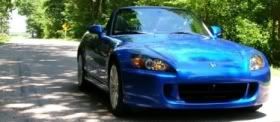 #4
You know I'll hang around for a while before heading home...
Midwest Sports Car Club
>
Forum
>
Public Events
>
Coffee and Cars Fort Wayne October 10th